TCSD - Learning Management System - Schoology is having some technical issues we are working to solve the problems with the company. ASAP Please, contact your school if you are having issues logging in.

Todd County Elementary Staff will be by Buche Foods and Turtle Creek Crossing passing out student enrollment packets, from 10 a.m. to 2:30 p.m., today and tomorrow, September 2 and 3.

Welcome Week at TCES Recommended Community Days Tuesday 8th - 8:30-3:30 Sunrise and City of Mission Wednesday 9th - 8:30 - 3:30 N. Antelope, White Horse and North of Mission Thursday 10th 8:30 - 7:30 South Antelope & South of Mission Friday 11th 8:30 - 3:30 Wicozani, Soldier Creek, and Ring Thunder You can come at any time! Can't wait to see you!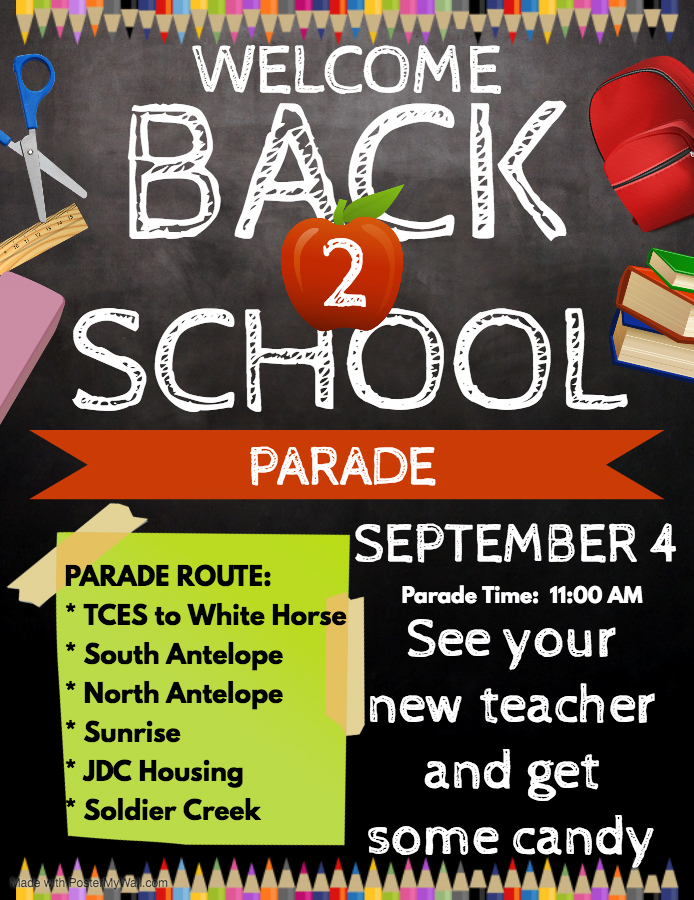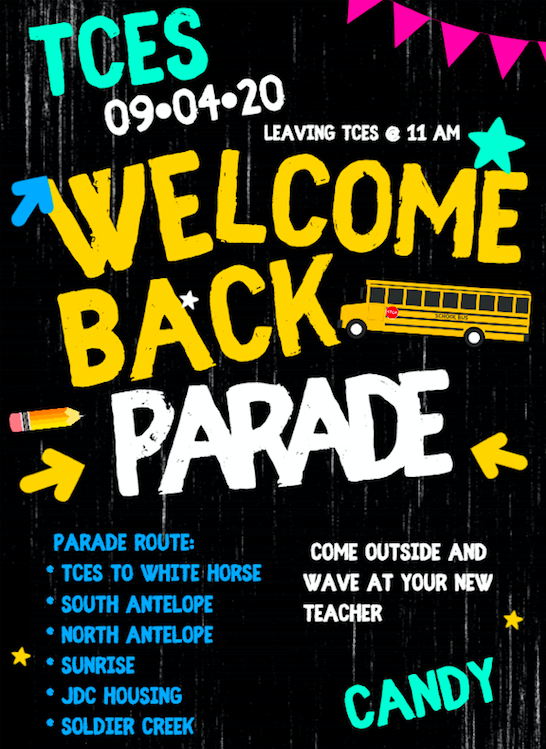 Anpetu Waste Dear Families and Students at Rosebud Elementary! We miss you! Wopila to the 141 families who have completed their enrollment packets! PLEASE complete enrollment packets by Sept. 4. Sept. 8-11-Enrolled families will meet their teacher, be provided an orientation on how access online learning, and check out their new computers. If you have any questions, please call 747-2411. TOGETHER WE CAN! Rosebud Elementary Staff

Todd County High School will be issuing computers next week. Each student will need to be accompanied with their parent/guardian for signatures. Tuesday, September 1: Seniors (9:00 am – 3:00 pm) Wednesday, September 2: Juniors (9:00 am – 3:00 pm) Thursday, September 3: Sophomores (9:00 am – 3:00 pm) Friday; September 4: Freshman (9:00 am – 3:00 pm) Please enter through the lobby doors. Masks are required along with social distancing. Thank you for your cooperation.


ENROLLMENT OPEN AT TCSD… Enrollment of students in the Todd County School District for the 2020-21 School Year is open. The choice of either South Dakota Virtual School –
https://sdvs.k12.sd.us/
or Todd County School District on-line classes is available. Students must enroll at TC Attendance Centers and a Chrome Book will be given to each student. Classes begin Tuesday, September 8. More information will be coming in the near future.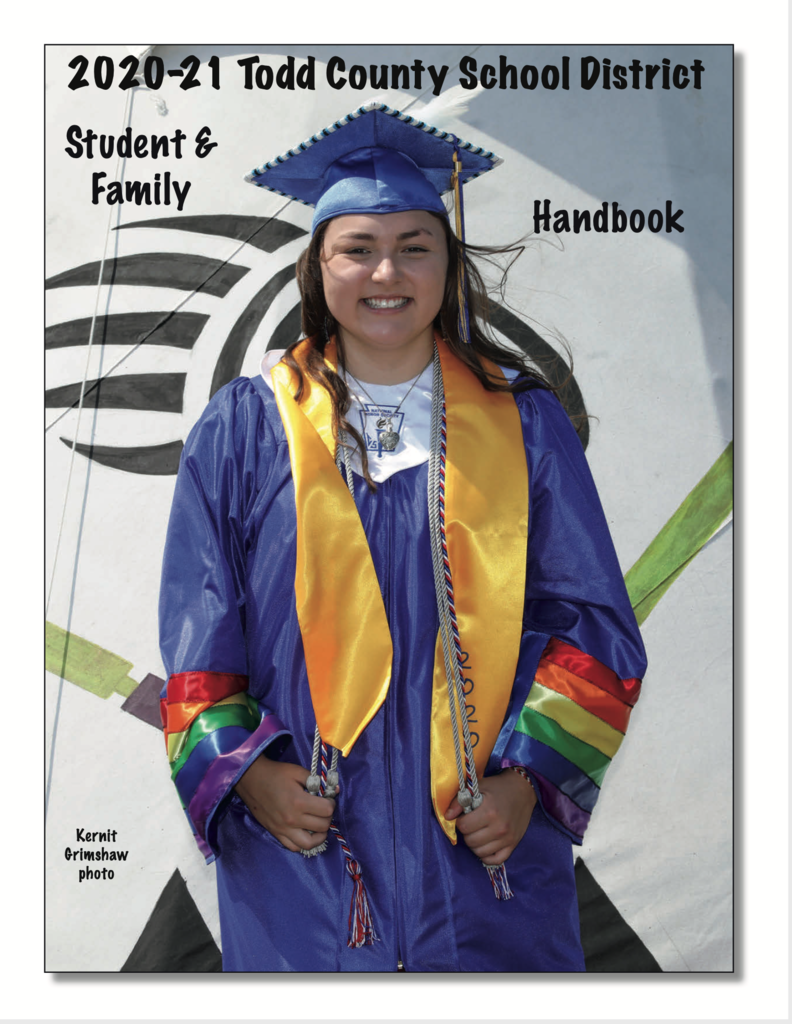 Information from the Office of Exceptional Education for upcoming school year. Knowing that each child and his/her family has different needs, we would like to provide exceptional education services in different ways. Here are our current instructional options for exceptional education services: Option 1: Your child comes into a school building and is provided with one-on-one services. Your child, at the most, may share a room with one other student but not the same space. Individual supplies and work spaces will be provided. The instructional room will be cleaned between student sessions. This would include services such as speech, occupational, and physical therapies. Option 2: Your child will have scheduled virtual sessions with their service provider and/or teachers. Your child may receive tasks to do between sessions to maintain skills. Services such as speech, occupational, and physical therapies could be provided virtually or during physical one-on-one sessions. The decision for any one-on-one sessions would be done by the IEP team, which includes the child's guardian(s). Option 3: Your child will be provided non-virtual/non-internet based tasks and receive appropriate support from his/her service provider as documented on his/her IEP. Before September 8th, your child's exceptional education teacher will be contacting you via your contact information on file to discuss these options. Anna LaDeaux Exceptional Education Director, TCSD
https://5il.co/j8rf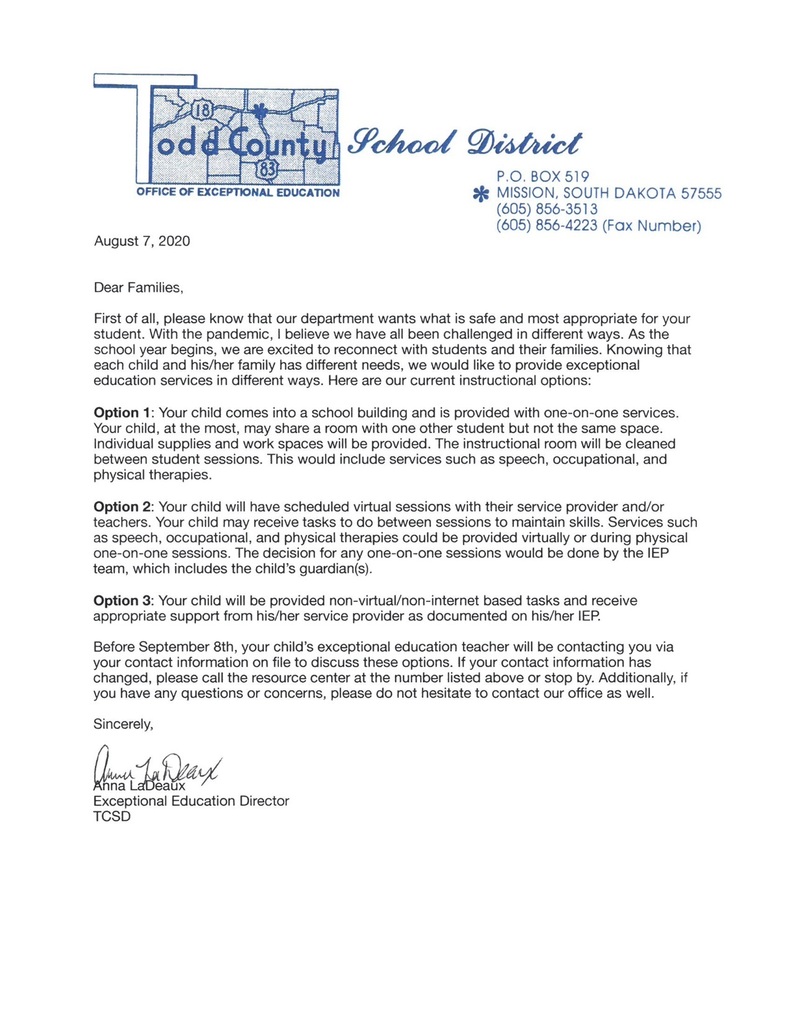 Tune into RST Channel 93, RST YouTube Channel or listen on KOYA FM 88.1FM for a Live Q&A with the Todd County School District Superintendent, Athletic Director and Staff at 1:00pm CST. Have a question for the TCSD Superintendent? Let us know in the comment section on this post or in the YouTube link provided. A dedicated phone line will be available during the Q&A.

JULY 27 TCSD MEETING POSTPONED TO AUGUST 3… The Regular July 27 Todd County School District Board Meeting has been moved to August 3, 2020. There will, however, be a Live Question and Answer Session on Monday, July 27 with TCSD Staff, available on tcsdk12.org. In the meantime, community members are encouraged to contact their respective members of the Board of Education with any questions/concerns regarding the upcoming school year, including questions about extracurricular activities. Phone numbers for the Board can be found on the District website or in issues of the Dreamcatcher. More information provided by the State on guides for the two options of reopening of Todd County schools this Fall can be found on the Todd County website. Click Explore, then Curriculum Instruction, then 2020-21 TCSD School Reopening Proposal.

Attention: Teachers and Administrators! All TCSD summer professional development for teachers will be delivered in an online format. All new teachers will still report to the district on Monday, August 10th at 8:00 AM at the Middle School. If you are a current TCSD teacher and you are taking either the Go Math PD or the CCC PD, you will also be attending these courses in person so you can more easily interact with your colleagues (from a safe distance). Please monitor Krista's Korner - the TCSD curriculum site for updated information on PD session schedules and Zoom links. ~ Krista Morrison, Director of Curriculum, Instruction, and Assessment.

Returning to School: A Two-Option Proposal On Thursday, July 23, 2020, Carol Galbraith, Superintendent of TCSD, and Krista Morrison, the Director of Curriculum, Instruction, and Assessment put forth a proposal to the TCSD Board of Education that allows for two enrollment options for families and students. See link to full news article here.
http://toddcountysd.apptegy.us/article/275529?org=tc

On Thursday, July 23, 2020, Carol Galbraith, Superintendent of TCSD, and Krista Morrison, the Director of Curriculum, Instruction, and Assessment put forth a proposal to the TCSD Board of Education that allows for two enrollment options for families and student. The RST invited Todd County School District representatives to present the proposal and other pertinent information about SD athletics in a live question and answer session on Monday, July 27. The School Board eagerly anticipates hearing from families, community members, and students about their thoughts on the proposal. Please participate in the live Q&A on July 27th to have your questions answered. Time of Q&A TBA.

Todd County High School Class of 2020 Graduation with Valedictorian and Class Speaker. Edited from Live Stream.
https://youtu.be/3rfTa9jecU4

TC High School Enrollment open… Enrollment for the 2020-21 School Year begins Monday, July 20, at Todd County High School, 8 a.m. to 4 p.m., for all new and returning students. Please use the front doors on the south side of the building to enter, and proceed to the Guidance Office. Signs will be posted. Please wear a mask. Each student must complete an enrollment packet, including any information changes of post office box numbers, phone numbers or physical addresses. We are looking forward to seeing all of you. Just remember, please be safe!