PSA… Walk-in Interviews available for TC School District Job Applicants… Walk-in Interviews will be held in the Todd County School District Resource Center Gym, Mission, on Monday, August 9, 1-5 p.m. and Tuesday, August 10, 10 a.m. to 2 p.m. Computers will be available for applicants to complete the District Application. For more information, contact Anna LaDeaux, 856-3513, or Desi Luedke, 856-3553.
WE ARE HIRING The Todd County School District will be holding walk in interviews for : Para Professionals, Custodians, Secretaries, Food Service Assistants and Bus Drivers. South Elementary Gym August 9th- 1:00 - 5:00pm August 10th 10:00AM- 2:00pm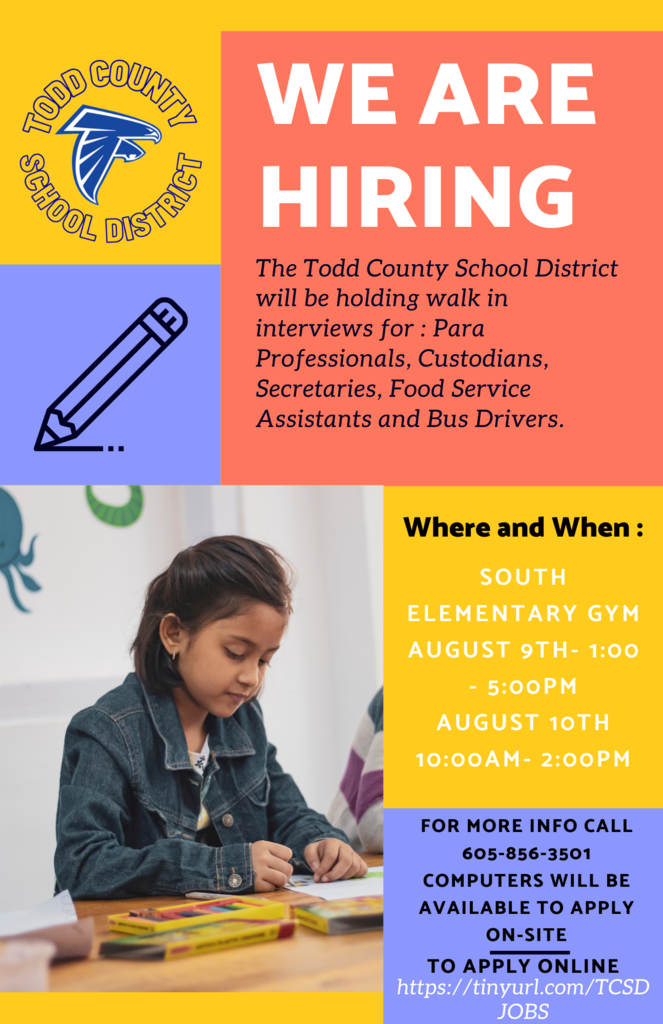 The new phone system will be activated at 3:30 pm today.

TCSD Regular Board Meeting will be held to night July 26th, 2021 @ the District Office starting @ 5:30pm. It will also be streamed online by going to the tcsdk12.org webpage click on the TCSD Youtube or go to
https://www.youtube.com/c/ToddCountySchoolDistrict
The Todd County School District is installing a new phone system. All Phone circuits should be moved over this afternoon or tomorrow on the new system. Thank you for your Patience. as update our system. TCSD Tech Department

The TCSD Internet is back online.

TODD COUNTY SCHOOL DISTRICT JOB OPENINGS – JULY 15, 2021 HE DOG SCHOOL: 1 Teacher 2 Paraprofessionals 1 Custodian/Driver OKREEK: 1 Custodian/Driver RESOURCE CENTER: 3 Exceptional Education Paraprofessionals 1 Bus Driver 1 Preschool Paraprofessional HIGH SCHOOL: 2 Teachers 3 Security Officers 1 Paraprofessional 1 Food Service Personnel LITTLEBURG: 2 Paraprofessionals 1 Custodian/Driver MIDDLE SCHOOL: 2 Teachers 1 Security Officer 1 Food Service Manager III 1 Exceptional Education Professional TODD COUNTY ELEMENTARY: 2 Teachers 13 Paraprofessional + Ex Ed 2 Custodians 2 Food Service Personnel BUS SHOP: 1 Maintenance 3 Maintenance/Driver 5 Bus Drivers LAKEVIEW: 1 Bus Driver 1 Paraprofessional 1 Food Service Personnel ROSEBUD: 2 Custodian/Drivers 3 Food Service Personnel 5 Paraprofessionals + Ex Ed KLEIN: 1 Food Service/Custodian TODD COUNTY ACHIEVEMENT: 1 Secretary DISTRICTWIDE: 2 Secretaries 1 Truant Officer For more information or application form, please contact Human Resource Director Richard Medema, 856-3501,
Richard.Medema@k12.sd.us
. Applications are also available at
http://www.tcsdk12.org
Starting Salary for Teaching Positions starts at $46,000. Starting salary for ESP Personnel starts at $12.50 to $17.50, depending on position and experience. Computers are available at the District Office for submitting applications.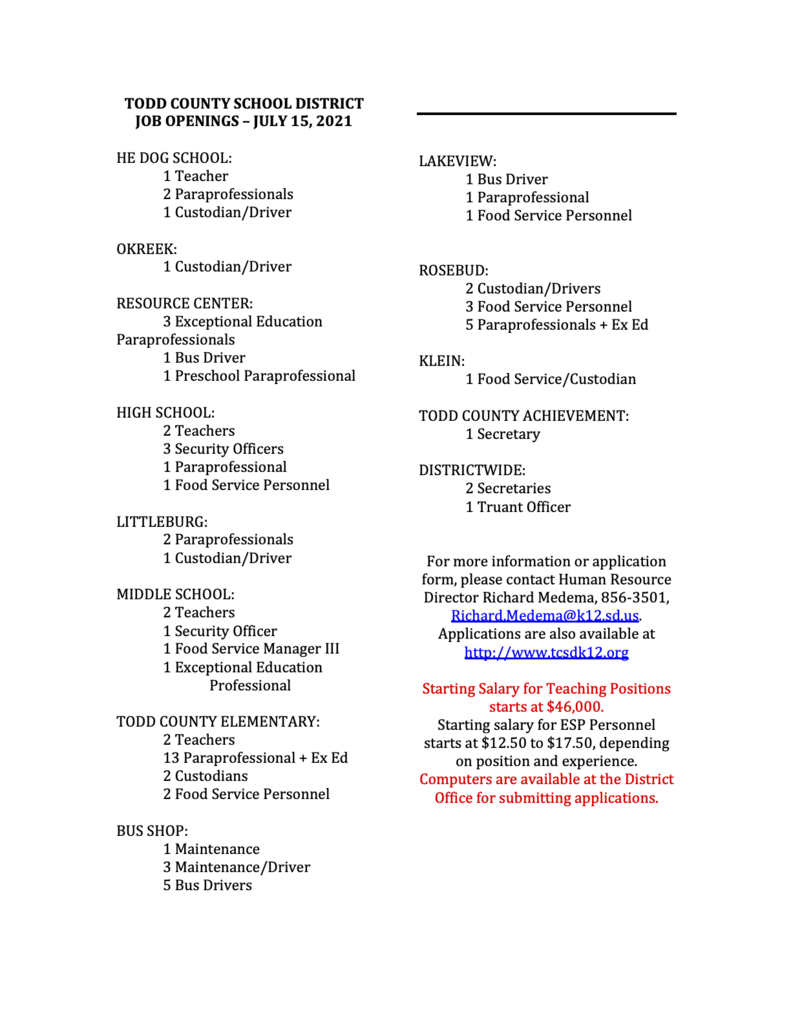 The TCSD Internet will be down as we are waiting on a replacement forigate filter to be delivered and setup by the state data center from pierre.

TCSD School District is experiencing internet issues the tech department is working with the State Data Center to resolve the issue.

Todd County School District Board of Education Organizational Meeting tonight Monday July 12th, 2021 @ 5:30 pm will be streamed live. No zoom link - board meeting are now open to the public. Check tcsdk12.org webpage tcsd youtube link or see attached link below.
https://www.youtube.com/c/ToddCountySchoolDistrict
to watch live stream.

The Family Educational Rights Privacy Act require in part that " All personally identifiable data maintained on children be destroyed within 5 years after data is no longer needed to provide educational services to the child." The Todd County School District Exceptional Education Department has been maintaining information on some students. The data may consist of no longer usable Individual Educational Plans (IEPs), test results, progress reports, referral information, etc. If you would like to have a copy of any of the above listed information, please contact Chantelle Edwards on or before July 31, 2021 via phone at (605) 856-3513, via email at
chantelle.edwards@k12.sd.us
or stop in at the Exceptional Education Office in Mission, SD. Upon request, the information will be mailed to you. Any of the dated information not picked up or requested by July 31, 2021 will be destroyed the following business week. If you have any questions or concerns, please feel free to contact Anna LaDeaux or Chantelle Edwards at (605) 856-3513.

TCHS Students must fill out enrollment packets… ​All 2021-22 school year Todd County High School students must fill out an enrollment packet before schools begins August 31. This will be used to update your student's information. ​Enrollment will be all summer- 8am to 4pm, Monday through Friday, in the Student Services Office/ Guidance. Parents/Guardians can also sign up for Parent Portal, to access your students records online. ​ Thank you, have a great summer.

TCSD JOB OPENINGS – JUNE 16, 2021… TEACHERS: 3 – HIGH SCHOOL 4 – MIDDLE SCHOOL 2 – TC ELEMENTARY SUPPORT STAFF: 25 - PARAPROFESSIONALS 10- FOOD SERVICE WORKERS (INCLUDES 2 MANAGERS) 13 - BUS DRIVERS (SOME INCLUDES SUBURBAN AND SPLIT DUTIES) 2 - CUSTODIANS 8 - SECURITY GUARDS 1 TRUANCY OFFICER 1 SECRETARY, LEVEL IV

​The Todd County School District Board of Education has issued a reminder that there WILL be in-person classes in all Attendance Centers this Fall. The first day of school will be Tuesday, August 31.​District staff members are continuing exciting plans to welcome students back, after the long absence.

Zoom Information on TCSD Regular Board Meeting June 14th, 2021 will also be broadcast on TCSD Youtube Channel. Time: Jun 14, 2021 05:30 PM Central Time (US and Canada) Join Zoom Meeting
https://sdk12.zoom.us/j/95604206810?pwd=a3VSNXZWdng5U09WaWlpeDJzNDVtZz09
Meeting ID: 956 0420 6810 Passcode: 900233 Dial any phone number below then enter the meeting ID and passcode 1 (346) 248 7799 1 (669) 900 6833 1 (253) 215 8782 1 (312) 626 6799 1 (929) 205 6099 1 (301) 715 8592

TCSD school board election results June 8th, 2021 Michelle Allen - 165 Linda Bordeaux - 139 Heather Frederick 128 Shelley Means - 125 Justin Klein - 96 Luke Lunderman 86

TODD COUNTY SCHOOK DISTRICT MISSION, SOUTH DAKOTA Educational Support Staff Openings Effective 6/1/21 He Dog Paraprofessional 1 Custodian/Driver 1 O'Kreek Custodian/Driver 1 Resource Center Ex Ed paraprofessional 3 Bus Driver 1 Preschool Para 1 TCHS Security 5 Paraprofessional 1 Food Service 1 Littleburg Paraprofessional 2 Custodian/Driver 1 TCMS Security 2 FS Manager III 1 Ex Ed Paraprofessional 2 Paraprofessional 1 TCES Paraprofessional (Ex Ed) 12 (includes new positions) Custodian 2 Food Service 2 Bus Shop Maintenance 1 Maintenance/Driver 3 Bus Driver 5 Lakeview Bus Driver 1 Paraprofessional 1 Food Service 1 Rosebud Custodian/Driver 2 Food Service 3 Paraprofessional (Ex Ed) 5 Klein Food Service/Custodian 1 TCAS Secretary 1 District Secretary 2 Truant Officer 1 Also 20 teachers at various attendance centers. Educational Support Staff hourly rate begins at $12.50 to $16.25, depending on position and experience. Bus Drivers with CDL begin at $16.50 Details and application forms at
https://www.tcsdk12.org
. For more information, contact Richard Medema, Human Resource Director, Todd County School District, Mission, SD 57555, 605-856-3501.

NOTICE OF SCHOOL BOARD ELECTION TODD COUNTY SCHOOL DISTRICT 66-1 MISSION, SOUTH DAKOTA A School District Election will be held on the 8th day of June, 2021 in all the voting precincts in Todd County School District 66-1, Mission, South Dakota. If polls cannot be opened because of bad weather, the election may be postponed one week. The election polls will be open from seven o'clock a.m. to seven o'clock p.m. central time on the day of the election. At the election, the following offices will be vated upon: TWO (2) SCHOOL BOARD MEMBERS RESIDING ANYWHERE IN THE DISTRICT WILL BE ELECTED FOR THREE (3) YEAR TERM. Michelle Allen Troy "Luke" Lunderman Heather Frederick Justin Klein Shelley Means Linda Bordeaux The polling place in each precinct of this district shall be as follows: O'Kreek Precinct O'Kreek Schoo! Mission/North & South Antelope Precincts Todd County Elementary School Rosebud Precinct Rosebud School Parmelee Precinct Community Center Bordeaux Consolidated Precinct Spring Creek School St. Francis Consolidated Precinct Community Center Lakeview Consolidated Precinct Lakeview School Jeanette Consolidated Precinct Littieburg School Voters with disabilities may contact the business manager for information and special assistance in absentee voting or polling place accessibility. Chad M. Blotsky, Business Manager Pub: 5/25/21 & 6/01/21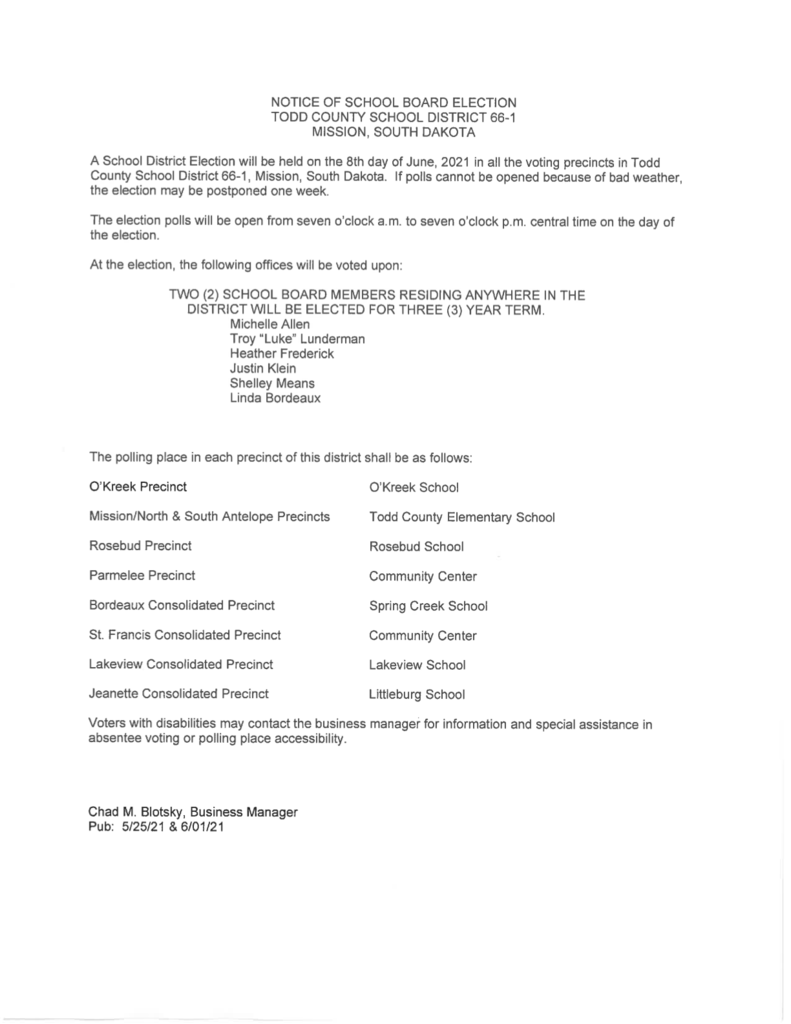 POSITIONS OPEN AT TODD COUNTY SCHOOL DISTRICT: CERTIFIED (TEACHERS): 1 – Klein 2 – Littleburg 1 – Rosebud 1 - Spring Creek 4 – Todd County Elementary 6 – Middle School 3 – High School 1 – Achievement 1 – Resource Center * SUPPPORT STAFF: 14 – Bus Driver/Suburban Drivers 4 – Custodians 3 – Exceptional Education Paraprofessionals 4 – Food Service Assistants 3 – Food Service Managers 20 – Paraprofessionals 2 – Secretaries 8 – Security Guards ADMINISRATIVE: 1 – Assistant Principal – Todd County Elementary * Educational Support Staff hourly rate is from $12.50 to $16.25, depending on position and experience. Bus Drivers with CDL begin at $16.50.

TODD COUNTY IN-PERSON CLASSES WILL BEGIN THIS FALL… ​Todd County School District's Board of Education has announced that there will be in-person classes beginning at the start of the 2021-22 School Year. ​District Staff, including administrators, teachers and all educational support staff have been working hard to ensure the usual quality education, as well as upgraded safety precautions and equipment are ready for students in the Fall. We are all very excited to have them back with us "in-person." ​Special appreciation goes to the families of our students for their cooperation and understanding during the past year.