Rosebud Sioux Tribe communities and members. Here are the numbers to call for EPP- 605-747-2559 605-747-2140 605-747-2444 At this time EPP is only assisting with wood.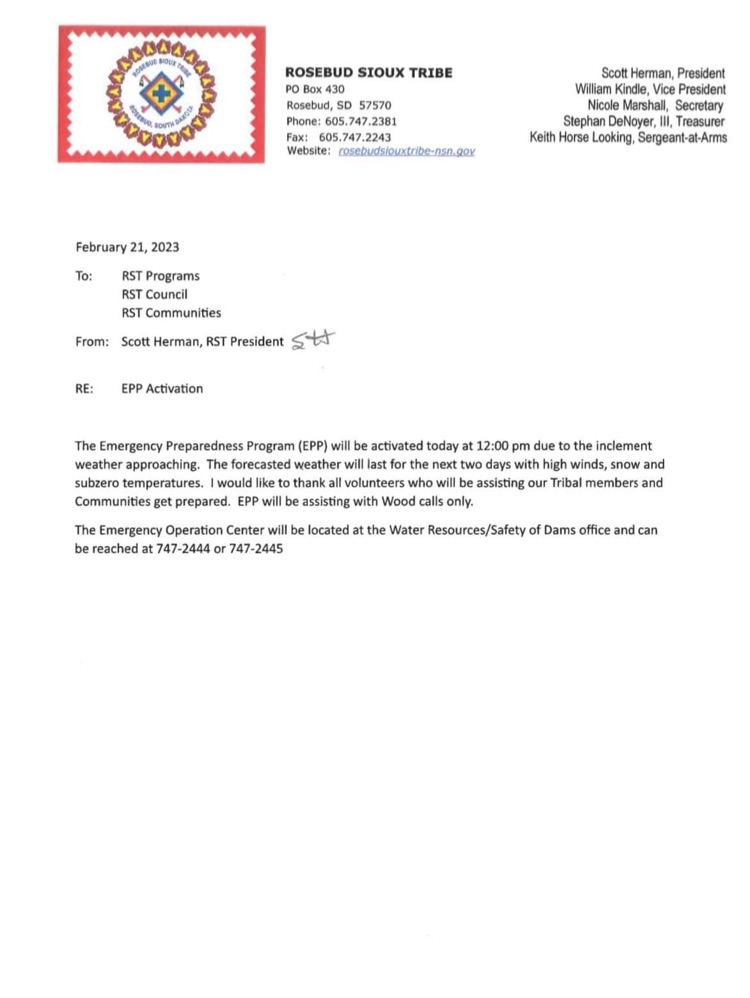 There will be no school and no work for all staff on Wed., February 22 and Thurs 23 due to Winter Storm Warning predictions.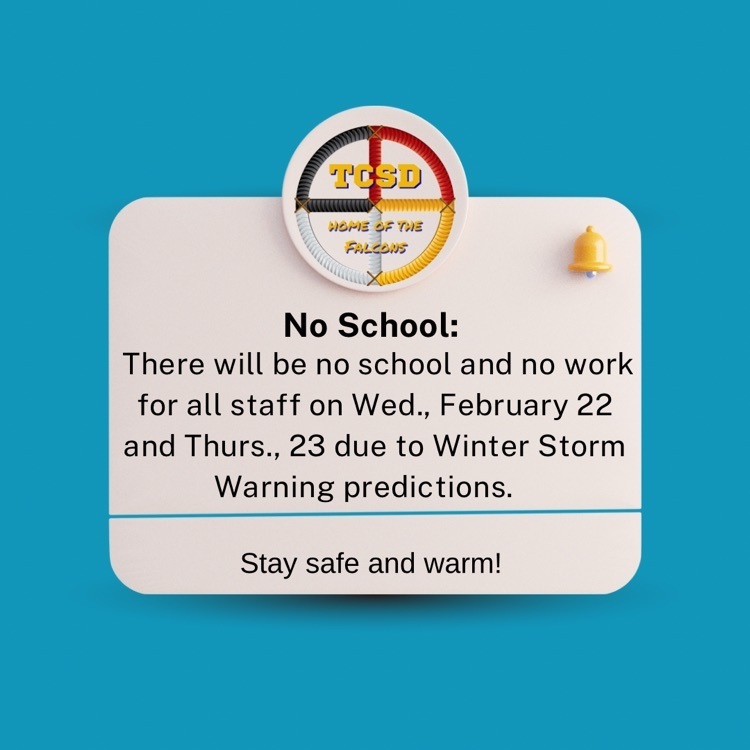 GAME TIME HAS CHANGED to 3:00PM : Region 7A Todd County High School Falcons vs Little Wound Mustangs GBB Feb 21st, 2023 game start now @ 3:00 pm Watch on todd county school district youtube channel or direct link here --
https://www.youtube.com/live/rY4mmKp3w7w?feature=share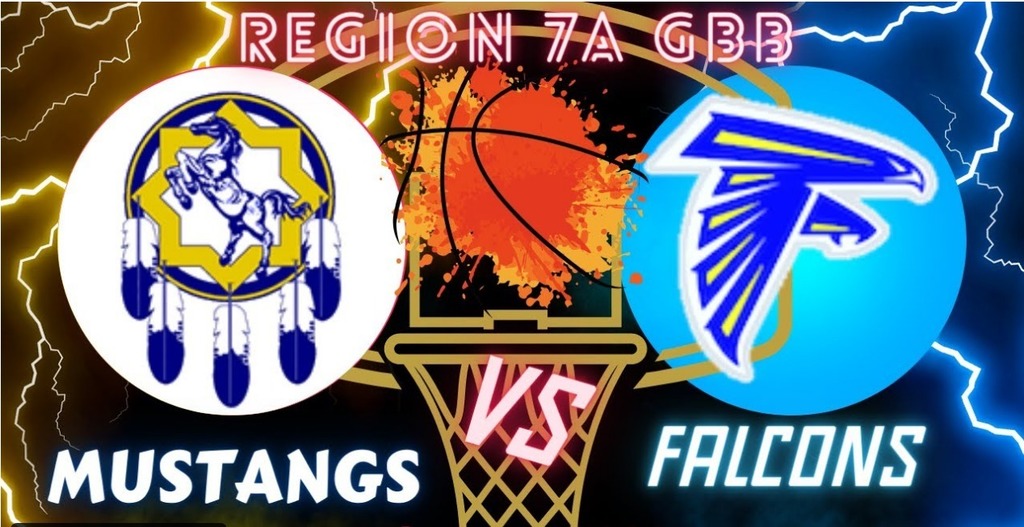 Join us March 8th for our next installment of our Mental Health Webinar Series with our partners at ParentGuidance.org. Have you ever been in a situation where you didn't know the right boundary to create for your child? In this session, learn how to set healthy boundaries with your children that will help them thrive.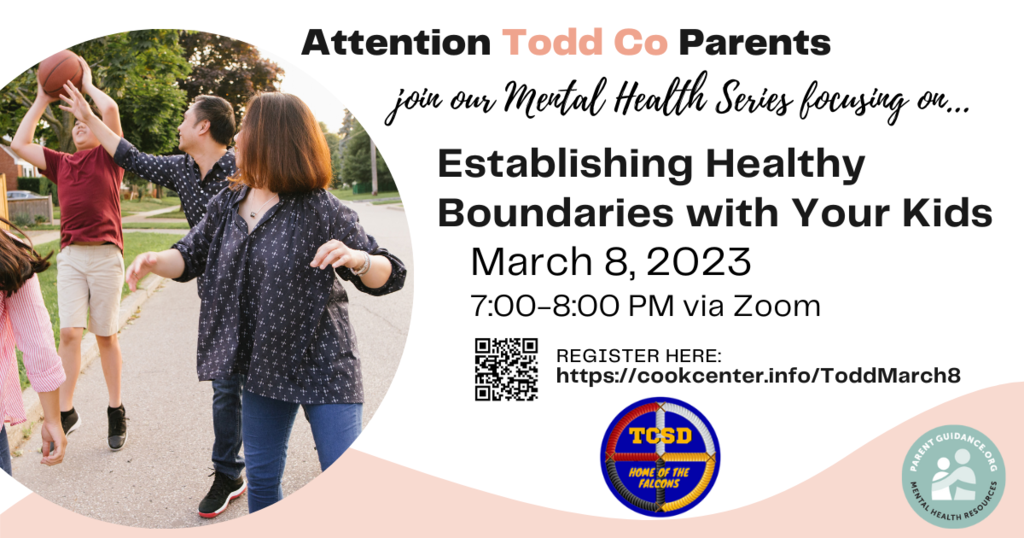 TCSD will be canceling/postponing all elementary basketball games/practices scheduled for this week due to the impeding weather. We will add another week to the season to schedule make up games.

Update: Due to school being closed, we will launch our first event next Friday, March 4th. Join us online for our first "Wounspe ogna oiyokpi unhapiktelo" Through Learning We Will Have Fun Fridays. This event is virtual where we will be posting videos on Facebook and Youtube on Fridays for families to learn together. Some Fridays will offer a free "learning kit" to accompany, but these are limited so please contact Leta Brandis (605-856-3501) or at
Leta.brandis@k12.sd.us
to sign up to get one. Our first Through Learning We Will Have Fun Fridays will be this Friday, Feb. 24th where we will be sharing a special video made by world renowned hoop dancer, Starr Chief Eagle. Starr will discuss hoop dancing, show how to make hoops, and show herself performing. If you would like to sign up for a free book about dancing please contact Leta Brandis by Friday, Feb 24th at 9 am (CT) to arrange pick up from the district office. Supplies are limited, first come first served.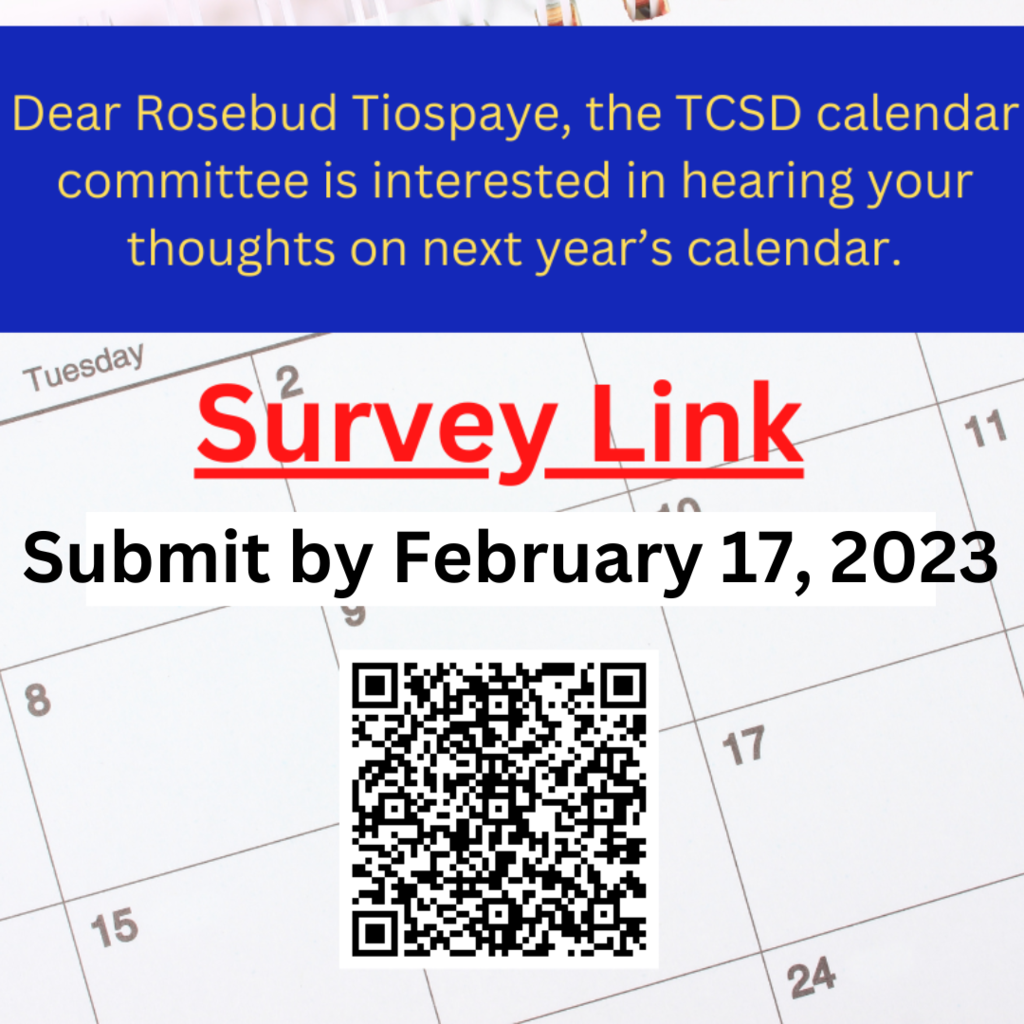 Reminder: Parent Teacher Conferences Early Out 1:00PM Thursday 2/16 2:00 - 8:00 PM No School Friday Inservice 2/17 No School Monday President's Day 2/20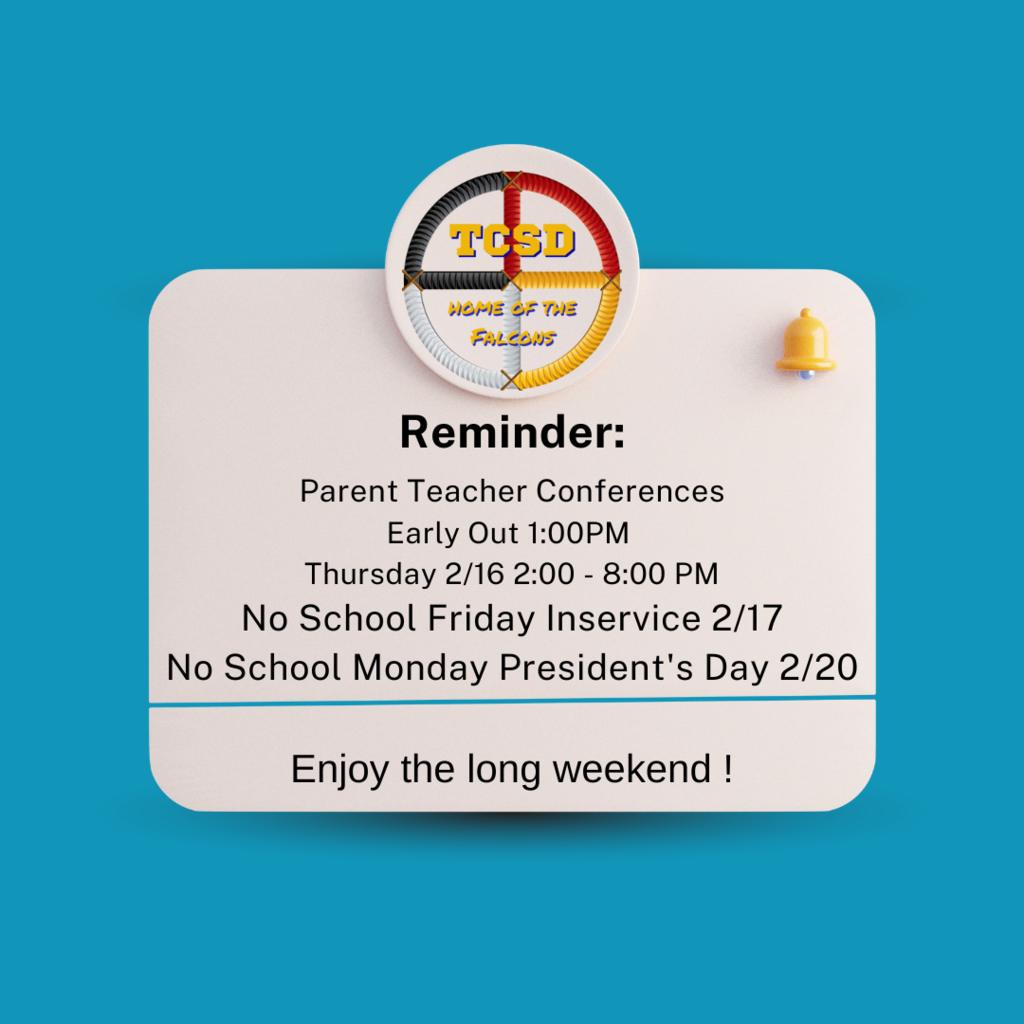 Correction: TCHS vs Pine Ridge BBB Games tomorrow Feb. 16th, 2023 starts @ 5:15


Todd County School District will be having a 10 o'clock start Wednesday, February 15 with buses running where possible.

TCHS vs Little Wound Girls Basketball Game for today Tuesday Feb. 14th, 2023 has been cancelled.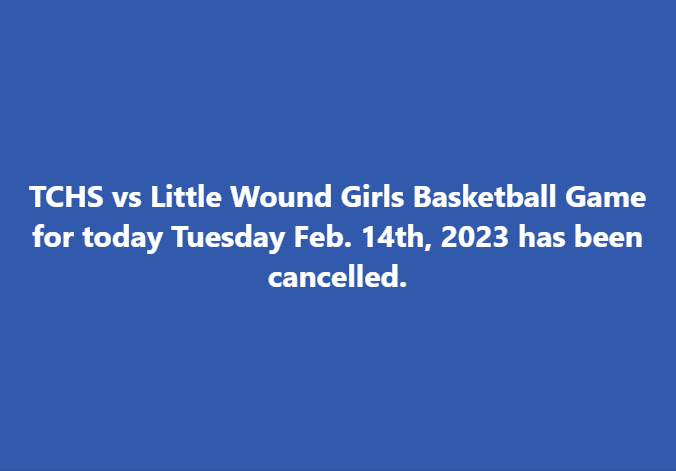 TCSD proudly welcomes Mickey Rowe, On Thursday, February 16th he will share his deeply personal story of growing up autistic and pushing beyond the restrictions of a special education classroom to shine on the Broadway stage. As an autistic and legally blind person, it was always made clear to Mickey the many things he was apparently incapable of doing. But Mickey did them all anyway—and he succeeded because of, not in spite of, his differences.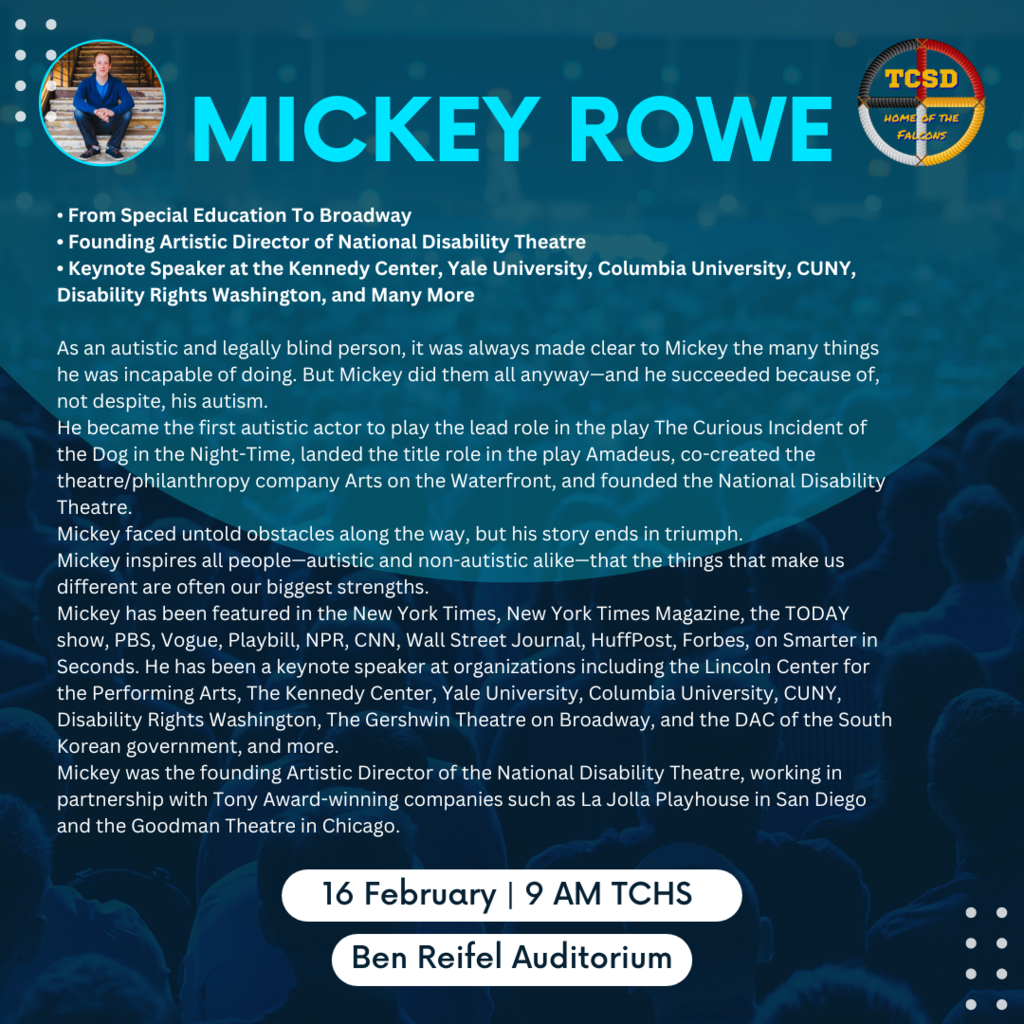 TCSD REMINDERS FOR FEB. WEEK of 13-18 TCSD Regular Board Meeting mon. 2/13 Parent teacher Conferences Thur. 2/16 Early Dismissal @ 1PM No-School Inservice Fri. 2/17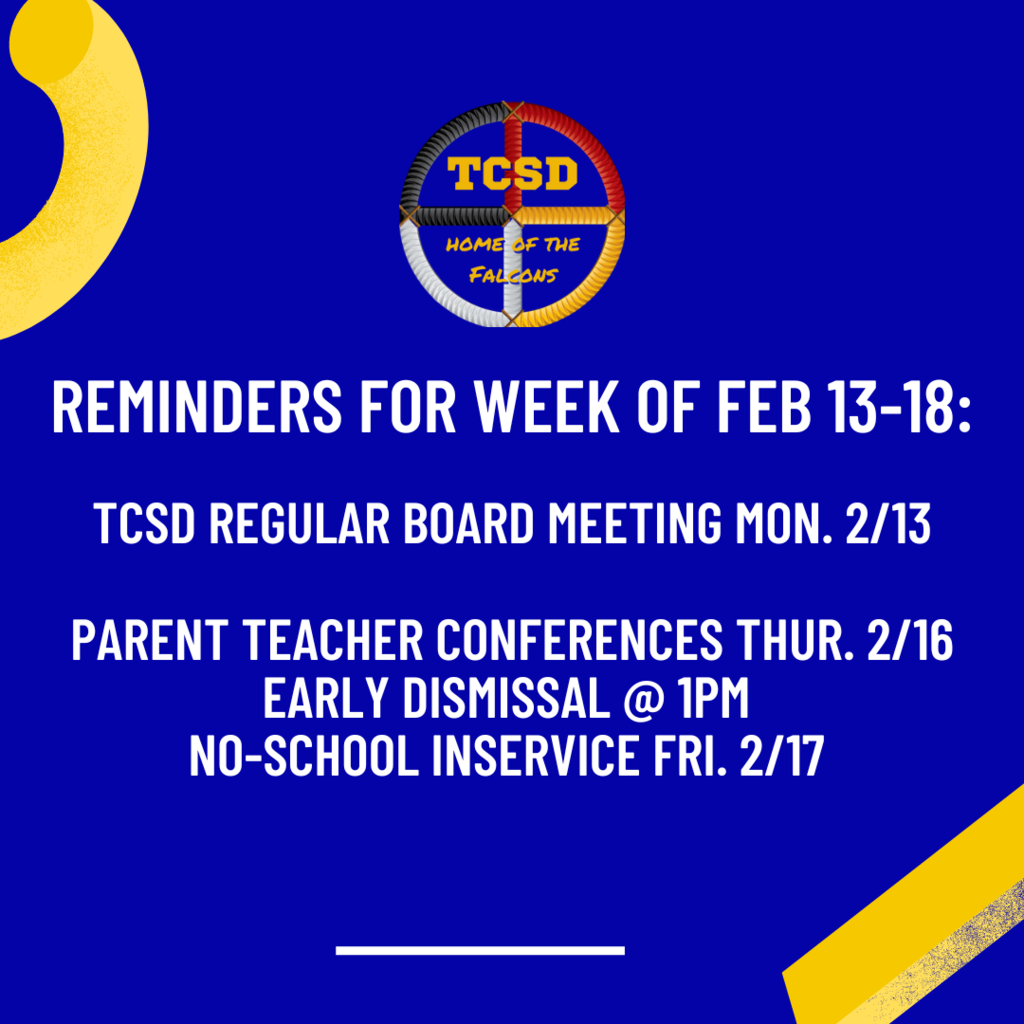 We are getting ready for TCSD Honors The Families event happening this Friday, Feb. 10th at 6 PM at TCMS! Check out our stuffed student goodie bags, new books for all readers at our free book table​, and our Raffle baskets stuffed with household items and LED speakers! Don't miss these items, performance by hoop dancer Starr Chief Eagle, activities for students, and community partner booths! See you Friday!