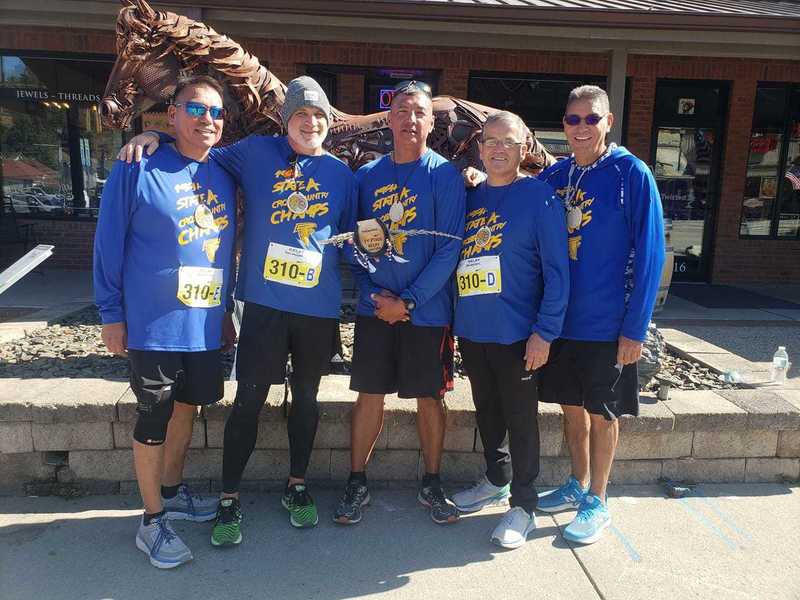 Former TCHS Graduates and 1984 Cross Country State Champions put on the running shoes again to complete in the Run Crazy Horse Marathon this sunday Oct. 4th, 2020 to support their team mate Jim Bromm who is currently going through cancer treatment. Pictured above Chet Herman, Bret Alan LaCroix, Steve Her Many Horses, Scott Herman, and Gerald Cournoyer Sr.  

The Team ended up with winning the Masters division relay.

Congratulations to the Former Falcons for continuing to inspire us running for a worthy cause.
Great Job - prayer for a complete recovery for Jim.


Information from Brett Alan Lacroix - go fund me page
Run for Jimmie
See link here to go fund me page

In 1984, we ran for a trophy.  On October 4th, 2020, we will run for one
of our brothers! James Bromm was a key part of our championship team. 
The last year has been tough on Jim.  After battling lung cancer and
thinking it was defeated, it came back!  We want to help Jim, as he is
unable to work.
Our championship team has been staying in touch
for the last 36 years!  We ALL agree it just may have been the platform
that propelled us to become who we are.  We still all stand on the
principles Coach Evans and Coach Her Many Horses instilled in us.
Jim 
has multiple titles in cross country and track.  He was a proud member
of the United States Marine Corp!  He is a very modest man, and we want
to help.  He never accepts 2nd place!  He will WIN!!
We will be
running in the Crazy Horse Marathon as a relay team.  We will be in the
MASTER's division, not because we still have it, but because we are all
bigger, older, and wiser!
We are asking pledges of $1 mile.  It's
$26 from all pledgers for Jim!  Fell free to donate more per mile, or
just make a general donation.
See you at the finish line!  We may
look a little different than we did 36 years ago, while hoisting that
trophy, but we will never let a brother fall!
Share with all!
Gerald Cournoyer
Scott Herman
Chet Herman
Steve Her Many Horse
Bret LaCroix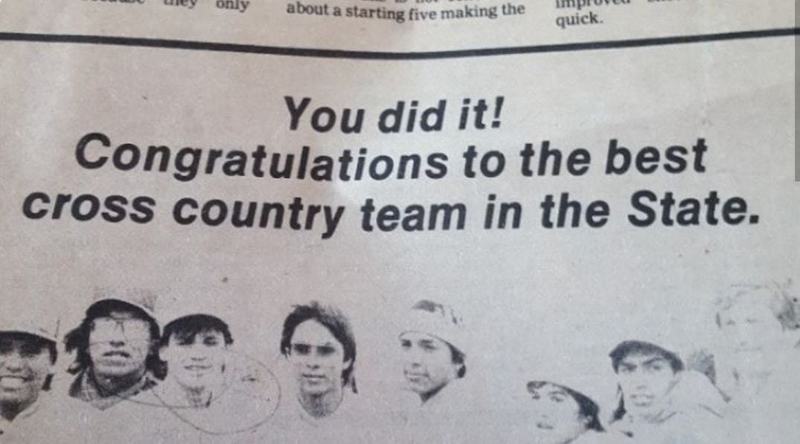 Sharing  From Facebook

Coach Chico Her Many Horses:(post)
Big shout out to the boys of 84, 1984 Todd County state cross country champions. They are running for a fellow team mate, who has cancer. Crazy Horse marathon relay race, raising funds for Jim Bromm, Brothers dont let brothers down, a theme, we talked about 36 years ago. They are Vice President of RST, College professor, retired Air Force veteran, teacher at Wyoming Cowboy Academy, school teacher and former marine. They have been very successful in life. Gerald Cournoyer Sr, Scott Herman, Bret Alan LaCroix, James Dean Bromm, Chet Herman, and Steve Her Many Horses. BOYS OF 84.