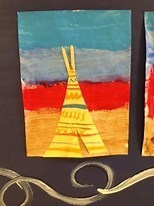 Art with Miss Jodi
Marlys Walkling
Monday, March 23, 2020
Hello everyone, this is Miss Jodi. I wanted to provide ideas for art activities to inspire creativity while you are at home. I hope to see everyone soon!
Drawing Ideas (can be done with watercolors too)
-Family portrait
-Something in space – Aliens, Spaceships, Rockets, Planets in crazy colors
-Scene from your favorite movie or book
-Your favorite animal or a pet – Create an animal using different animal parts
-Your favorite food
-Ocean Scene
-A garden
-Comic book or cartoon character
-Something you love
-A sport
-Draw a wondering black line and color using different colors or use a color scheme.

Primary Triadic- Red, Yellow, Blue
Secondary Triadic- Purple, Orange, Green
Complementary- Red/Green, Blue/Orange, Yellow/ Purple

-Draw outside in dirt with a stick!
-Make a sculpture outside with found items such as sticks, leaves, rocks etc.
- Make sand art. Use pinches at a time to create a line design- glue is not needed.
Play Dough Recipe for Sculptures
Have fun! Make a form then squash it and try something new. Sculptures will dry but are very fragile.
Ingredients:
1-cup flour
½ cup salt
1-tablespoon oil
1-tablespoon cream of tartar
1-cup water
Optional food coloring/ flavor extracts
Directions:
Over low heat mix salt, flour, and cream of tartar. Mix in vegetable oil, food coloring, and water while stirring. Once the dough balls together place it on a floured surface and knead together until dough consistency. If the dough is sticky add more four.
Here is a link to a YouTube Channel that has a variety of drawing videos that are fun to watch.
https://www.youtube.com/user/MarkKistler/videos
Tate Modern Museum has different creative activities to do at home that are easy to access.